ML production
Validate and Govern Models
Ensure that models used across business critical applications and workflows are managed to the highest standard.
Request a Demo
Automate MLOps Validation
Set up automated and custom tests of model performance and automatically document any model's behavior for compliance.
Ensure Smooth Handoffs and Collaboration
Automated model documentation lets you maintain control over your AI projects by ensuring the reliability of your business predictions.
Maximize Compliance of Business Critical Use Cases
Ensure models used in business-critical applications and workflows adhere to regulation and compliance requirements.
Reduce Unnecessary Risk
Embedded governance allows you to comply with government regulations and reduce risk from changes to production models.
One Registry for All Your Models
DataRobot model registry gives you a single system of record for all of your AI artifacts – with one place to manage all production models no matter who built them, how they were built, or where they are hosted.
The DataRobot AI Platform unifies your fractured infrastructure providing the same roles, governance and object structure to finally help you think clearly about your entire model inventory.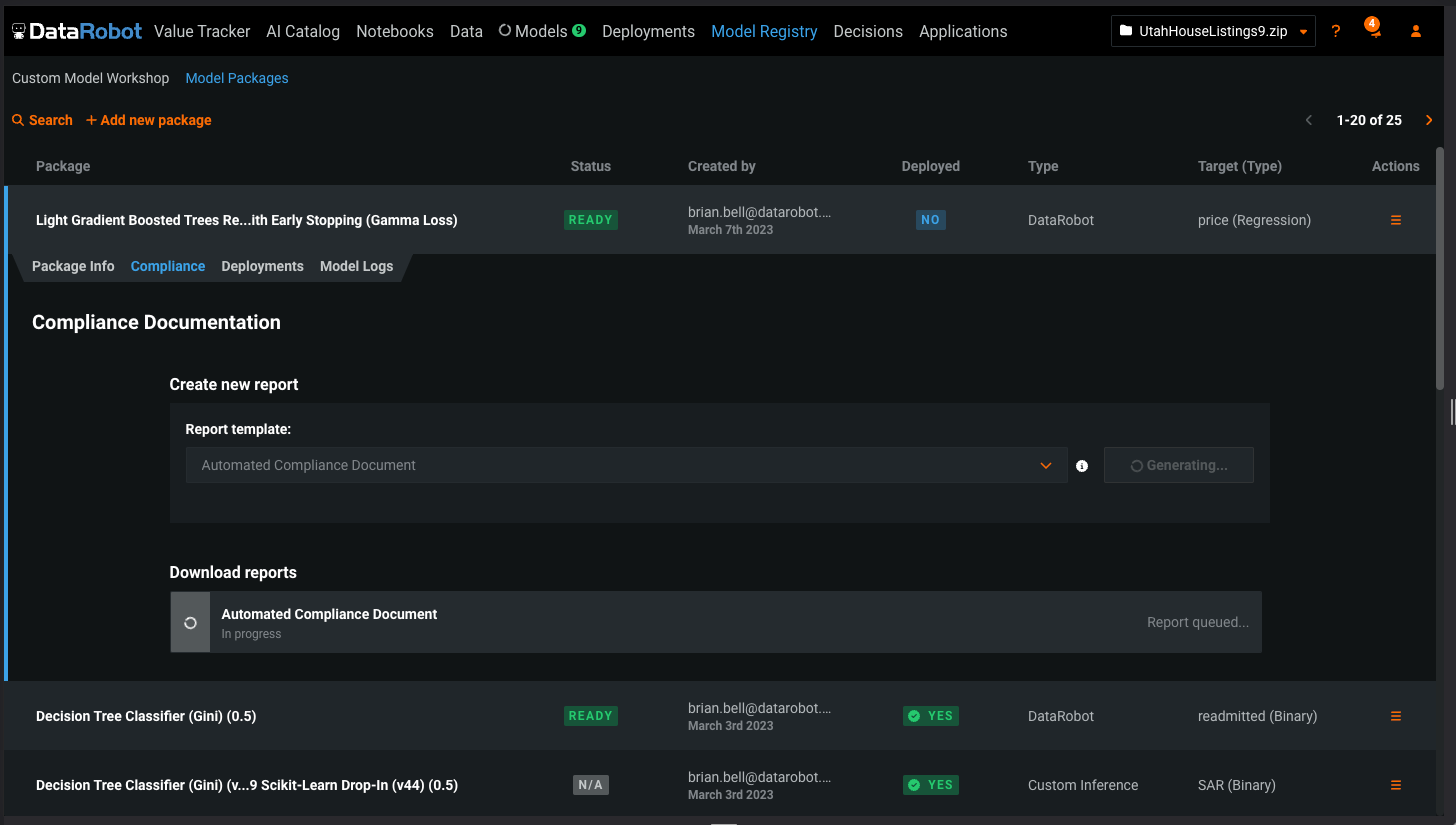 Automate Compliance Documentation
DataRobot saves hours of work by automating the creation of model compliance documentation for DataRobot or custom-built models – no matter where they are deployed. DataRobot can generate compliance documentation at the click of a button.
The customization of compliance documentation helps data scientists follow enterprise or industry-specific requirements. Bring in your own custom datasets, charts, tables, and URLs to enrich compliance documentation and standardize model documentation across your organization.
Automatically Prepare for Deployment
Automatically serialize your entire data and feature engineering pipeline for all data types – then containerize and deploy a production grade rest-API endpoint in one click. Centrally manage and process metrics for these deployments, assuring the performance of these business-critical models via DataRobot.
Integrate with MLflow
AI builders using the open source MLflow framework can bring metadata from MLflow into the DataRobot platform to assist with model governance, history, and input origins. Build the way you think is best and DataRobot will help you monitor, document, and govern your models, wherever they may be.
The DataRobot AI Platform acts as a central location for managing a suite of models from many different platforms. This helps simplify compliance and governance across AI and ML operations.
Minimize Risk with Bias Mitigation
Mitigating bias is critical for brand reputation, regulatory compliance, and ethics. DataRobot simplifies this with a no-code, out-of-the-box solution. Select from two bias mitigation workflows: automatically run bias mitigation to add fairness to the top three models found, or choose to manually mitigate bias in any model with a feature of your choice. This gives you the control to understand how bias mitigation is performed and choose which features are being mitigated based on your organization's requirements or risk tolerance.
Global Enterprises Trust DataRobot to Deliver Speed, Impact, and Scale
More AI Platform Capabilities
Take AI From Vision to Value
See how a value-driven approach to AI can accelerate time to impact.