ML production
Integrate Models
Align your models in production with your data and application integration strategy.
Request a Demo
Simple, Flexible Deployment
Put any model into production, whether built in DataRobot or not.
Embed AI Anywhere
DataRobot APIs and Services ensure you can easily embed AI inputs and outputs into your existing tools, processes, and infrastructure without recoding or repackaging.
Leverage Your Entire Ecosystem
Maximize your investments in data platforms, DevOps tools, and cloud AI models.
Conform to Your IT Governance Rules and Infrastructure
Align with your chosen IT governance, environment, and business rules.
More Than MLOps
DataRobot offers more than just traditional MLOps capabilities. It is a system of record for all your AI artifacts that helps you establish a framework to maintain governance and audit trails for all deployments across your entire organization with automated governance, compliance documentation, custom metrics, and more. While automated workflows and challenger experiments with CI/CD give you the perfect balance of speed and transparency. The DataRobot AI Platform incorporates best-in-class DevOps tools and best practices required by ML engineers and data scientists.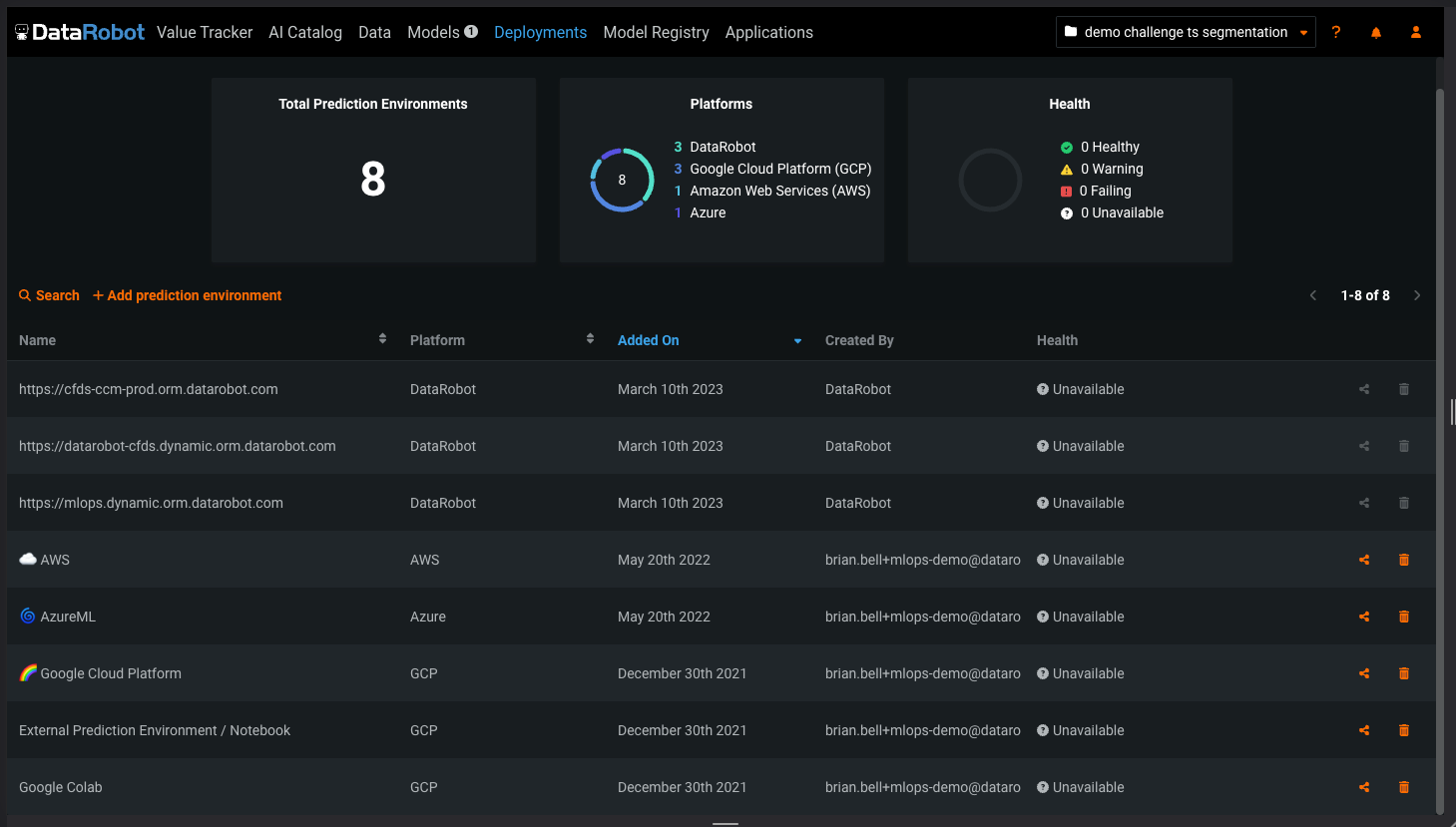 Deploy and Monitor All Your Models
DataRobot or custom-built models can be put into production with ease. Rest API, batch jobs, and exportable scoring code make it easy to align with your data and application integration strategy. This means you can easily deploy any model to a production environment of your choice: in a cloud environment such as AWS, GCP, or Azure, or on-premises. Deploy where you like and we will take care of the management and monitoring.
Integrate with Practitioner Tools
The DataRobot AI Platform gives you the interoperability you need across your ecosystem. We support data scientists and software developers through platform customization and native integrations with a broad ecosystem of APIs and Services. These integrations include Deployment and Monitoring inside Snowflake, Airflow for orchestration and GitHub actions for CI/CD. This ensures that existing investments in data platforms, DevOps, orchestrations, and cloud AI models and services are maximized.
Integrate into Business Apps and BI Tools
DataRobot integrates with business applications such as SAP and Salesforce, as well as common business intelligence tools like PowerBI and Tableau. Mapping to your access roles and permissions, your deployments provide all teams with the same predictions across every endpoint. As your AI backbone, DataRobot ensures that users have the same predictions and forecasts across all consumption points, preventing fractured AI insights.
Global Enterprises Trust DataRobot to Deliver Speed, Impact, and Scale
More AI Platform Capabilities
Take AI From Vision to Value
See how a value-driven approach to AI can accelerate time to impact.