Snowflake + DataRobot
Unleash the Power and Value of Data with DataRobot and Snowflake

DataRobot and Snowflake together offer an end-to-end, enterprise-grade AI experience and expertise to enterprises by reducing complexity and productionizing ML models at scale, unlocking business value.
Now it's easier, faster, and more secure to experiment and deliver production models. The DataRobot AI Platform and Snowflake Data Cloud provide an interoperable, scalable AI/ML solution and unique services that integrate with diverse ecosystems so that data-driven enterprises can focus on delivering trusted and impactful results.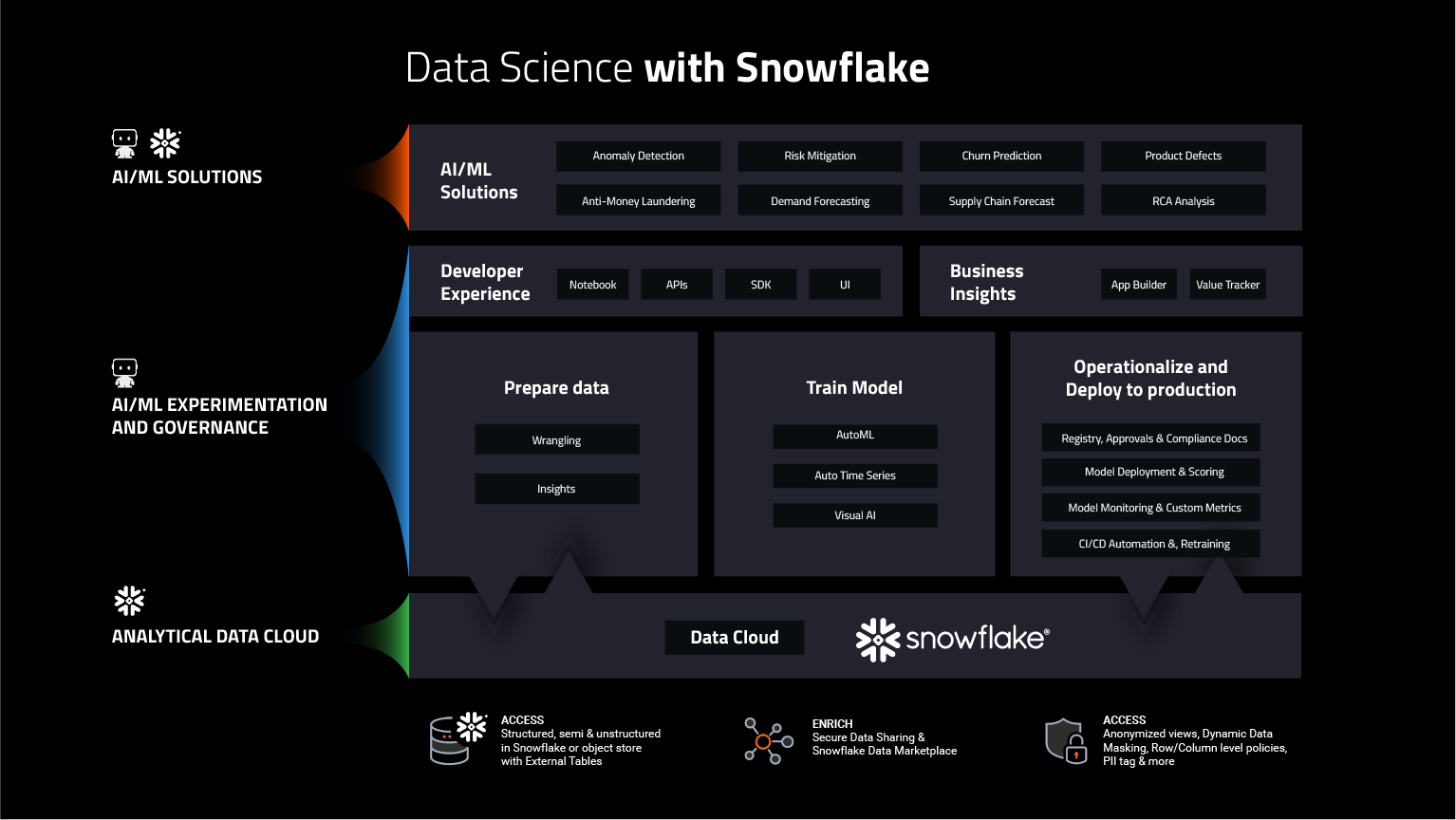 Watch how Harmoney leveraged DataRobot and Snowflake to speed up work
Snowflake is core to Harmoney's data science by providing:
A consolidated source of truth for all customer data
The ability to query structure and semi-structured data using SQL
Access to customer data that's easy to find, explore and understand
Close integration with DataRobot – Harmony's AutoML tool
Use Case: Mapping customers journey and experience at time of loan origination:
Predict whether a customer is a good or bad risk
Offer the correct rate
Predict the likelihood of loan default
Getting the best performance out of a risk model through data science is essential to our business goals. A 1% improvement is equal to $1 million a year.
DataRobot and Snowflake support industry solutions:
Do you have DataRobot already? Look to maximize your Snowflake investment with DataRobot AI Accelerators—real world solutions for code-first data scientists
Snowflake delivers the Data Cloud — a global network where thousands of organizations mobilize data with near-unlimited scale, concurrency, and performance. Inside the Data Cloud, organizations unite their siloed data, easily discover and securely share governed data, and execute diverse analytic workloads. Wherever data or users live, Snowflake delivers a single and seamless experience across multiple public clouds. Snowflake's platform is the engine that powers and provides access to the Data Cloud, creating a solution for data warehousing, data lakes, data engineering, data science, data application development, and data sharing. Join Snowflake customers, partners, and data providers already taking their businesses to new frontiers in the Data Cloud.
Benefits
Trust and Explainability
Faster and more secure solution, for code-first and GUI-first users as ML experimentation can run within existing Snowflake environments. Adapt and accelerate AI while generating business impact with responsible and governable AI at scale.
Flexibility and Interoperability
Leverage broad technical integrations with data platforms, AI frameworks and service, DevOps tools, application stacks and business processes. Deploy in any cloud, on-premises, or hosted solution.
Ensure Success
Pre-built AI Accelerators give a blueprint for successful use cases. In-house data scientists across industries help envision what's possible with AI and work with you to achieve it.